ACCESSIBILITY COMPLIANCE REVIEW
ABOUT ACCESSIBILITY TESTING
This company has agreed to a comprehensive review of its website based on a representative sample of web pages. This review is being conducted by programmers and accessibility analysts who are blind and visually impaired, using JAWS, NVDA, Zoom Text and other accessibility software. A report will be created which outlines any barriers to accessibility based on the
Web Content Accessibility Guidelines 2.0 AA (WCAG 2.0 AA)
- a technical standard developed by the World Wide Web Consortium to help make sites more accessible. Once these issues are remediated, the site will be retested until the site is deemed accessible in accordance with the WCAG 2.0 AA standard. Typically a site will undergo several iterations of remediation before coming into full compliance.
UNDERSTANDING ACCESSIBILITY
For people who use screen readers, the way a site's code is set up can make or break the user experience. For example, when filling out a form, users need to know which data they are being asked for (name, e-mail etc.). There will usually be text nearby that visually resembles a label, but if it's not correctly identified as such in the code, screen readers may just read it as "edit." This can be a serious barrier to someone using the form on a website.

WCAG 2.0 standards are not just for people who are blind; in fact, they are for everyone. Following the standards will also make a site more accessible to people who are deaf or hard of hearing, people who have learning disabilities, people who experience seizures, and many others. More often than not, people with no disabilities still use accessibility features in different scenarios (for example, someone may use captions on videos because they don't want to wake anyone up).
OUR PROCESS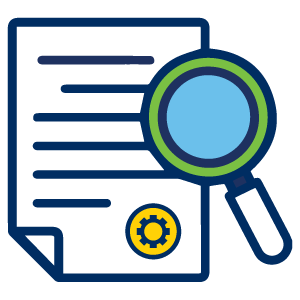 1.

Discovery
Define project goals
Scope and outline critical workflows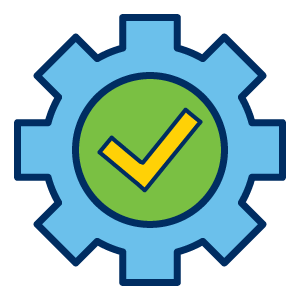 2.

Automated Testing
Utilize two different automated tools
Evaluate and compile results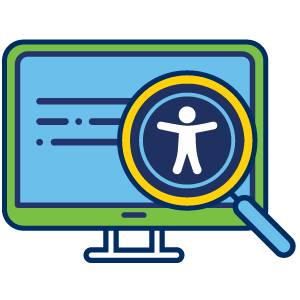 3.

Screen Magnifier Testing
Site testing by an analyst who has low vision using screen magnification software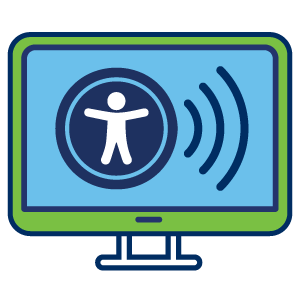 4.

Screen Reader Testing
Site testing by an analyst who is blind using screen reading accessibility software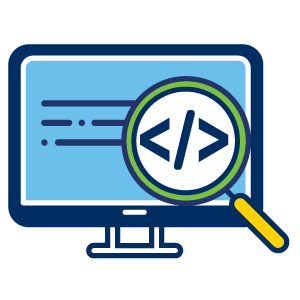 5.

Source Code Evaluation
Manually consolidate findings
Evaluate source code based on published accessibility standards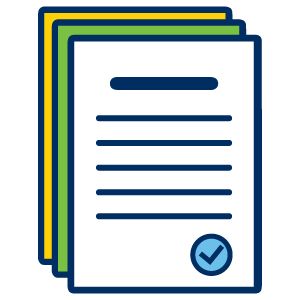 6.

Reporting
Comprehensive report with high level summary and detailed results
Provide source code level remediation suggestions
DELIVERABLES
Compliance Audit Report: Once our evaluation of a website is complete, we provide a report that clearly conveys the company's degree of alignment to the WCAG 2.0 AA standards and what specific remediation actions we suggest to bring the website into compliance. This report can then be utilized by existing technical resources or we'll gladly recommend a WCAG remediation software development company.

Site Seal: After the remediation of all the issues found in the report is complete, our analysts will test the website again. If all issues have been remediated, we will issue a site seal that will let the site's visitors know that the site is compliant. They will be able to see the details of the certification by clicking our official site seal. Certifications are valid for one year from the date the site seal is issued. The site seal will also show the current status of compliance.
WEBSITE SCOPE
A website is evaluated based on the number of page types, the critical workflows, the type of functionality, and the integration with any third-party platforms that supply content or functionality.

Page Types and Workflows: 'Page Types' are unique web pages that make up a website. 'Workflows' are processes that users go through while visiting a website.

Third Party Components: We do test third-party components, as they are part of the customer experience when entering a site. For example, if a third party tool is used for processing payment, the company of the site being tested would be liable for the accessibility, as it is part of the customer experience. Saying "it's not our site" does not remove accountability for the overall accessibility.
WORKING WITH LIGHTHOUSE WORKS
Lighthouse Works, Inc. employs individuals who are blind or visually impaired to perform our compliance testing. Our employees use assistive technology, such as screen readers and screen magnifiers, on a daily basis to access digital content. Our Accessibility Analysts are experts in both the usability and accessibility of applications, platforms, and workflows. We also employ software developers who specialize in accessibility to perform a manual website source code evaluation.